A couple of months ago was my birthday and my sister-in-law gave me a lot of crochet related items, including this beautiful book,
Lalylala's Beetles Bugs and Butterflies: A Crochet Story of Tiny Creatures and Big Dreams
. Lydia Tresselt, the person behind Lalylala, made a name for herself in the crochet world with her unique and adorable amigurumis (you can find her patterns in her Etsy shop right
HERE
). Lydia style is very recognizable in all her different creations, and the ones in the book are no exception. From the title you can assume the content of the book will be a bunch of insects, it's true but it's also so much more.
When you start flipping the first few pages you could be confused since there isn't any crochet pattern or any crochet related information, it's actually a story starring the different beetles, bugs and butterflies. It is beautiful and really interesting, my daughter really enjoyed it, especially once her little butterfly was done.  The second part of the book, as any other crochet book, helps you through the basics from stitches to tools and tips and tricks. The third part and heart of the book, the patterns. The best way to describe this part of the book would be to compare it to a buffet. You have to go to each station to take what you want to put on your plate.
You first need to choose your insect. I chose the Ulysses Butterfly, then I had to go to the caterpillar section and do this pattern. I could have stop right there the caterpillar is so cute and my toddler absolutely loves it! Even in the caterpillar section you will have to turn the pages quite often to go to the hat section, body section, antenna section etc. etc. then you can come back to your chosen pattern and make the wings ( once more, you will have to go back to different parts). This is where I'm not sure if I'm annoyed or impressed, to go back and forth is annoying, but the decoupage of the different sections allows you to build your own insect and have fun with it. Thankfully, the patterns are really well written and easy to follow. Where I'm totally in love is that you can crochet the whole cycle of life of your beloved bug. It's fun to make, it's cute and it's also an interesting learning tool if you have children. For example, if you choose to do the whole cycle of a butterfly you will have to crochet an egg first then a caterpillar, a cocoon and some wings. The caterpillar will go in the egg before becoming a simple caterpillar, after that you can put it in the cocoon before taking him out and add the wings to have your gorgeous butterfly! If you choose a different kind of bug you will have the cycle of life accordingly to the specie.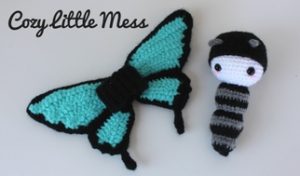 I really encourage you to take a look to this book, or Lalylala's Etsy shop. The gorgeous final result, learning opportunity and endless possibilities (if you mix and match as well as change the colors ) really counterbalance the little annoyance of having to go back and forth all the time to finish your project. My daughter is in love with her butterfly or «ninille» (we are a French speaking family and caterpillar in French is chenille so my 17 months calls her butterfly ninille as an attempt to say chenille since the caterpillar is her favourite part). We even went to see the Butterflies Go Free exposition at the botanical garden of Montreal and the fact that my daughter had her butterfly amigurumi really helped her littler toddler-self to enjoy the moment as she was able to have interest in the flying things looking like her toy. Anyway, I consider this book a great investment since I know I'll make so many different beetles, bugs and butterflies through the years to come.
Did you find this post helpful? Let me know if you try one of Lalylala pattern and which book or designer you want me to review next.

**The pictures in this post are my own representing the book I possessed and the final product that I made from the book. **
** I sometimes include affiliate links in my supply lists or if I mentionned a particular product. Purchasing from these merchants earns me a small commission with no extra cost to you, and goes towards supporting Cozy Little Mess.**
Please follow and like us: