My grandma Aline, Mamie as I call her (we're french speaking as you know) , recently had to be placed in a nursing home because of her Alzheimer's disease. My mother go see her almost every single day and she brings her some stuff from her home like pictures, pillows and decor. My mother asked me to make a blanket for my grandmother's rocking chair in the nursing home since most people there have crochet and knitted blanket on their chair Mamie Aline wanted one too. I had three criteria: it had to be colorful, with her name on it and be sized to her rocking chair. Little did I know this would lead me to a month long granny square palooza trying so many types and sizes of squares from different resources and also trying new techniques like the candy cane border or combining technique like granny square and C2C (corner-to-corner).
This post is the story of this blanket with all the links and details of how it become one of my favourite project to date in my crochet journey.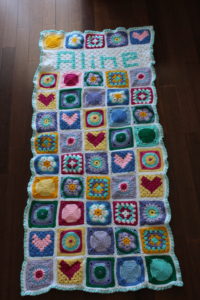 First things first the materials. I used eleven different colors , yes that's right ELEVEN. I used Red Heart Super Saver in White as my main color to attached everything, the border, few touches in the squares and the background for her name. Here's every other colors:
Red Heart Super Saver in :
Caron One Pound (I couldn't find these exact one online so sorry !)

Blue
Lillac
Turquoise (in some squares and for the name and border)

Loops and Thread Impeccable in :
For the hooks, I used my favourites, Clover Amour Hook, I used mostly the H or 5mm but for some squares I used the 4 mm hook.
Of course I also used a yarn needle, scissors, measuring tape and a spray bottle filled with water for a little blocking.
I know what you really want to know, what are the patterns for these beauties ? Well here they are!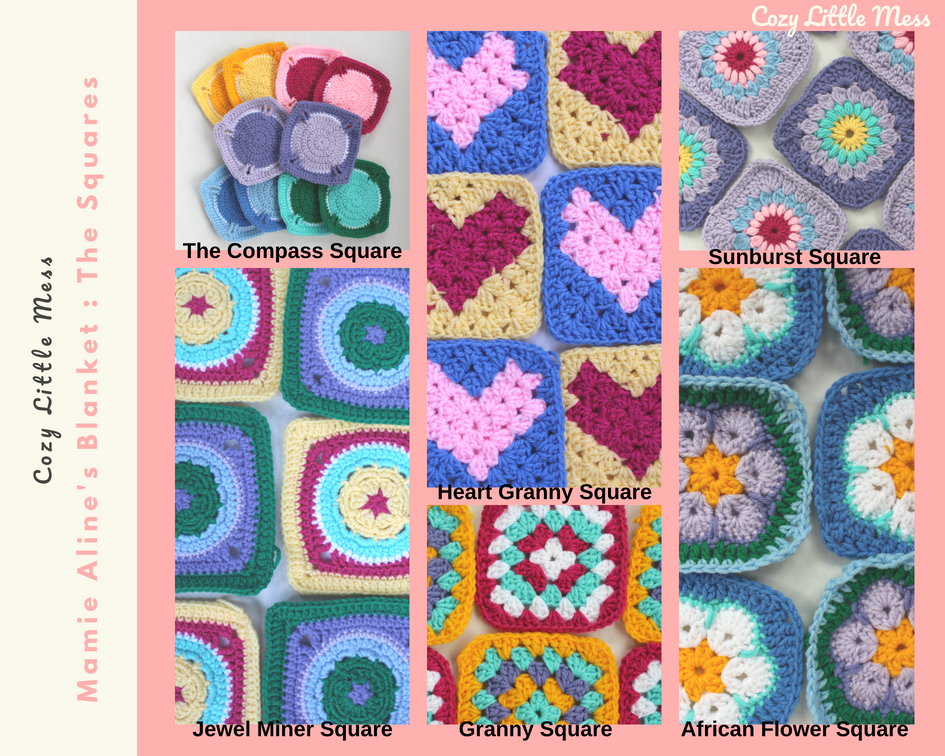 Squares from Crochet by Redagape
Squares from Bella Coco Crochet
Classic Granny square: I don't exactly remember where I learnt how to do the classic Granny squares since it's usually one of the first things you learn when you start crochet but here's a video tutorial from Bella Coco Crochet. In this particular blanket I changed color for each round.
As you may have noticed Bella Coco and Redagape both use UK term but I usually do US terms, it's because they are so great they also share their pattern and tutorials in US term, so you can uses which ever you're more comfortable with.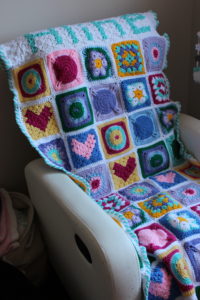 I also used the C2C technique to do a rectangle with Mamie Aline name written in it. I used a simple graph paper sheet to do the plan since it is small enough. New to C2C here's a video from Repeat Crafter Me  that will explain you how to do corner to corner and another one here on how to change colors , it is one of my favourite things to do in crochet (a C2C pattern from me is coming your way soon!). In the end I had to add 3 columns on each side of the rectangle to fit my 5 squares large measurement.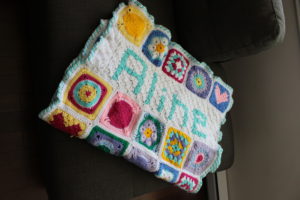 For the border I did the Candy Cane border From Repeat Crafter Me  and I fell in love with this border! It came out a little wavy but after a good wash it came out great.
Finally, the assembly, I decided to crochet a simple white single crochet border around every square and then I went the long way and sew them all together. I sew the first row and the rectangle with the name together first and then from the name down I sew each vertical row and after that each horizontal row. It took me around 3 hours to assemble everything but I didn't want something with relatively big holes, I wanted the blanket to be tight and secure.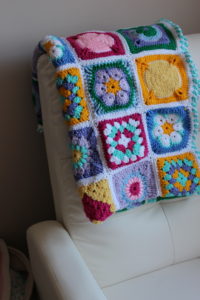 A couples week ago my mom went to see my grandma and gave her the blanket (she's way too far from me to go easily, but we video chat), she was so happy! She thinks it's so beautiful and it is her precious treasure she doesn't want anybody to touch it. I'm so glad that my hard work gave her this smile, and that it may brighten her day when she looks at it. I'm not sure she always remember it is from me but I don't care as long as this blanket makes her happy. Along the way I learnt that Alzheimer's and Dementia patients can really appreciated Twiddle muff or lap throw so I thought I might give it a try and made her one. Would you like to see that? If you try any of these squares or learn something new from this post please tag me on Instagram ( @cozylittlemess or #cozylittlemess) so that I can see what you came up with !
I sometimes include affiliate links in my supply lists. Purchasing from these merchants earns me a small commission with no extra cost to you, and goes towards supporting Cozy Little Mess.


Please follow and like us: