This pattern is a really special one this week, it's not special in his execution or complexity , not at all, it's special because it actually is the first project that I design myself a few years ago. If I designed it so long ago, why sharing it now? Well I didn't have a blog then but also I had to make two of them this month and I rediscover my first crochet baby and decided to share this little fella. Originally this little cacti was a birthday gift for my sister in law (the same one that I made the human heart for). When I finished that first one, I was pretty proud, I was only starting to be confident in my crochet ability and this little plant came out really cute, looking at it made me smile so bad, that I couldn't gave it to her, so I made another one for the gift. Time lapse, 2 weeks ago my other sister-in-law, just turn 15 and she asked me to be a member of the little cacti club, she wanted one since she saw them. It's actually so simple and the technique I used to make the cactus can be used to make hat without working in continuous round. Also, instead of making a crochet pot for the plant, I bought a little plant pot at Micheals for 1 or 2 $ but at this time of the year you can find pack of 3 little pots at the dollar store.
Ok, enough said let's get started!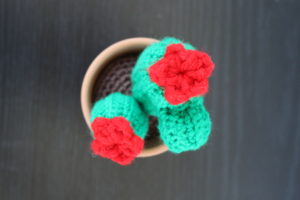 ***You can purchase an INEXPENSIVE AD-FREE PDF of this pattern on Ravelry or Etsy HERE 
Materials
2 ½ or 2 ¾ inch diameter pot ( you could use anything really, and the size of the project is really adaptable)
Worsted Weight Yarn – Green (I used Loops and Thread )

Dark brown for the soil ( black can work too I used both)
Small amount of red or pink or yellow for the flowers

Yarn Needle
Scissors
Stitch marker if you want
Stuffing
3,5 mm hook ( I used the Clover Amour 3,5 mm)
Abbreviations
ch = chain
sl st = Slip Stitch
Sc = Single Crochet
Tr = Triple Crochet
Inc = Increase
Dec = Decrease
BLO = Back Loop Only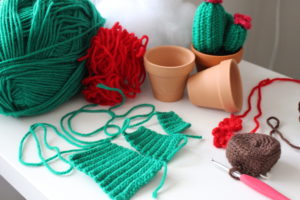 Pattern
Main cacti
Ch 16
Sc across, ch1 turn
Sc across BLO (back loop only), ch1 turn ( repeat 18 times)
Leave a long tail for assembly (around 8 to 10 inches is good)
You will have a big rectangle
Main cacti arm
Ch 7
Sc across, ch1 turn
Sc across blo, c
h1 turn ( repeat 10 times)
Leave long tail ( around 5-6 inches)
You will have a small rectangle
Small cacti
Ch11
Sc across, ch1 turn
Sc across blo, ch1 turn (repeat 12 times)
Leave long tail ( 6 to 8 inches)
You will have a mediu
m rectangle
Flowers (make 2 or 3 )
I will propose you 2 way to do the flowers, they looks pretty much the same but doesn't use the same stitches, use whichever you're most comfortable with, personally I used the tc flower.
Version 1 with tc:
Ch4, sl st to the first chain to make a ring
*Ch 2, tc, sl st* (repeat 4 mor
e times to have 5 petals)
Version 2 chain version
5 sc in a magic ring
Sc, ch 3, sl st ( repeat 4 more times to have 5 petals)
Leave long tail to sew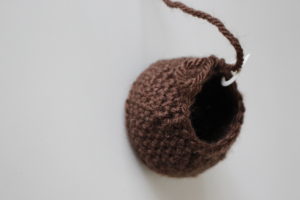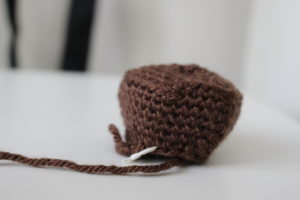 Soil (number of stitches of the rou
nd)
Round 1 : 6 sc into a magic ring (6)
R2: inc (increase) in each around (12)
R3: *sc, inc*  6 times (18)
R4: *2 sc, inc* 6 times (24)
R5: *3sc, inc* 6 tim
es (30)
R6: * 4sc, inc* 6 times (36)
R7: sc around in blo (back
loop only) (36)
R8-10: sc around (36)
R11: * 4sc, dec(decrease) * 6 times (30)
R12: *3sc, dec* 6 times (24)
R13: *2sc, dec* 6 times (18)
Pull up a big loop and put your hook on the side to sew the cactus easily before stuffing and closing the project.
R14: *sc, dec* 6 times (12)
R15: dec 6 times (6)
Sew shut

Assembly
I suggest that you make all your 3 rectangles/cactus and flowers first so that you can assemble the cactus first then make the soil and stop at round 13 so that you could sew the cactus on top and then stuff and close the project.
Take your bigger rectangle and use the long tail and a yarn needle to thread along the last row. Then you pull the yarn really tightly to gather the edges together until the hole at the top is pretty close. Next, sew the side to form the cacti.  Keep the tail.
Do the same thing to the other rectangles.
Personally, I prefer to turn the piece inside out to hide the seam.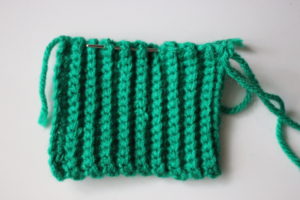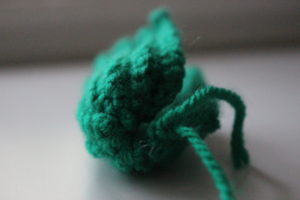 Stuff firmly all tree pieces.
Take the smaller piece and attach it to the bigger one the make the arm of the main cacti. The position is a little bit over the middle. Then sew the flowers at the top of the main cacti and the smaller one, you can also add another on the arm or in front of it if you want.
Next, you will sew the two cactus on the soil placing the smaller one in front of the arm of the bigger one.
You can now stuff and finishthe soil.
Put the finish product in the pot.

And… That's is guys ! I hope you like this little project and that you'll make one (or more) to add to your decor or as a gift of someone. I'm so excited to finally share this pattern with the world.
Is there any other plants that you think I should make and I would like to know what was the first project that you design yourself ?
As always, if you create something from my pattern make sure to use the #cozylittlemess so I can see what you made and you can also tag me (and follow me) at @cozylittlemess !!
Hope you'll have an amazing week !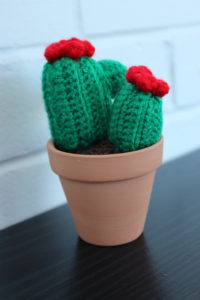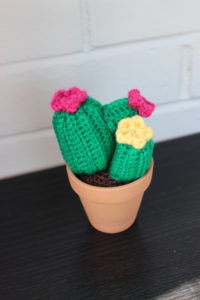 This pattern is an original pattern by Valérie Prieur-Côté of Cozy Little Mess (July 2018). Please do not claim this pattern as your own. If you wish to share this pattern, you may link to this pattern but please do not reprint it on your site. You may keep a copy for your own personal use but please DO NOT sell the pattern or distribute it.  
You may sell products made from this pattern but please clearly credit the design to me, Valérie of Cozy Little Mess, and provide a link to my blog www.cozylittlemess.com.  Permission is NOT granted for mass production or factory manufacturing of any kind.  Thank you for being respectful and for your understanding!
I sometimes include affiliate links in my supply lists. Purchasing from these merchants earns me a small commission with no extra cost to you, and goes towards supporting Cozy Little Mess.
Please follow and like us: