Merry Christmas in July!! It's that time of the year again when we need to start thinking about all our holidays projects, because let's be honest, being a crafter need time and preparation. Last Christmas, my daughter just turned 1 and was completely in love with penguins, she still loves them, so we decorated a lot with penguins to make her happy, that's when I thought about making her this calendar. My husband and I love Advent Calendar, I always prepare him little gifts, bake goods and what not, with a little clue each day to find the said gift that I hide in our home. It's a tradition that we are so excited to start with our daughter and this year she'll be 2 so we can start it! This calendar have little pockets to either put a treat (chocolate, candy, stickers, a small toy, a candy cane, etc.), a message (or a clue) or you could crochet a little penguin or Santa or even simply use a candy cane and move it every day from pocket to pocket until the 24. It's really up to you!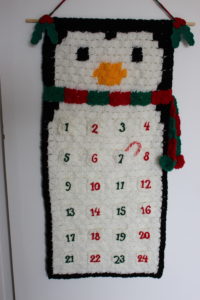 First things first, let's talk about C2C (corner to corner), if you never tried this technique, don't be afraid it's actually quite easy and work up more quickly than you think.
Here two tutorials from Repeat Crafter Me teaching C2C and how to color change in C2C.
Since C2C pattern are graph, I thought I would facilitate things for you and as a Christmas in July gift here is the pdf of the graph :  Cozy Little Mess Penguin Advent Calendar f. Of course there is other element to this project like the assembly, the add-on scarf, the string and the holly embellishment (pattern available here)
***You can purchase an INEXPENSIVE AD-FREE PDF of this pattern on Ravelry or Etsy HERE  the pdf also contain the christmas holly appliqué pattern **
Material
22 or 24 inches dowel (I only found a 36 inches at Micheal's so I simply cut it to have a 22 inches dowel)
Worsted Weight yarn in different color I used Red Heart Super Saver for all of them :

Small amount of yellow for the beak
Green for the scarf and embellishment
Red for the scarf and embellishment
Black for the eyes and penguin
White for the penguin and the pockets

H/ 5mm crochet hook (I used the Clover Amour)
E/3,5 mm crochet hook (I used the Clover Amour)
Tapestry needle
Scissors
Red and green felt with adhesive back or this precut felt adhesive numbers
Pompom maker (I used this one from Clover) * facultative
Christmas music/movie *facultative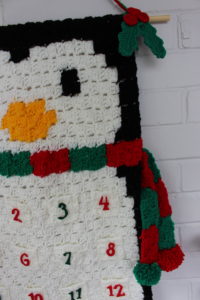 Size
The penguin advent calendar without the dowel is 18 inches wide and 36 inches tall
Pattern
Main graph/ the penguin
Note: The grey square are to indicate the emplacement of the pockets, this is actually white like the rest of the penguin body. Use the H/5mm hook and the color indicated on the graph.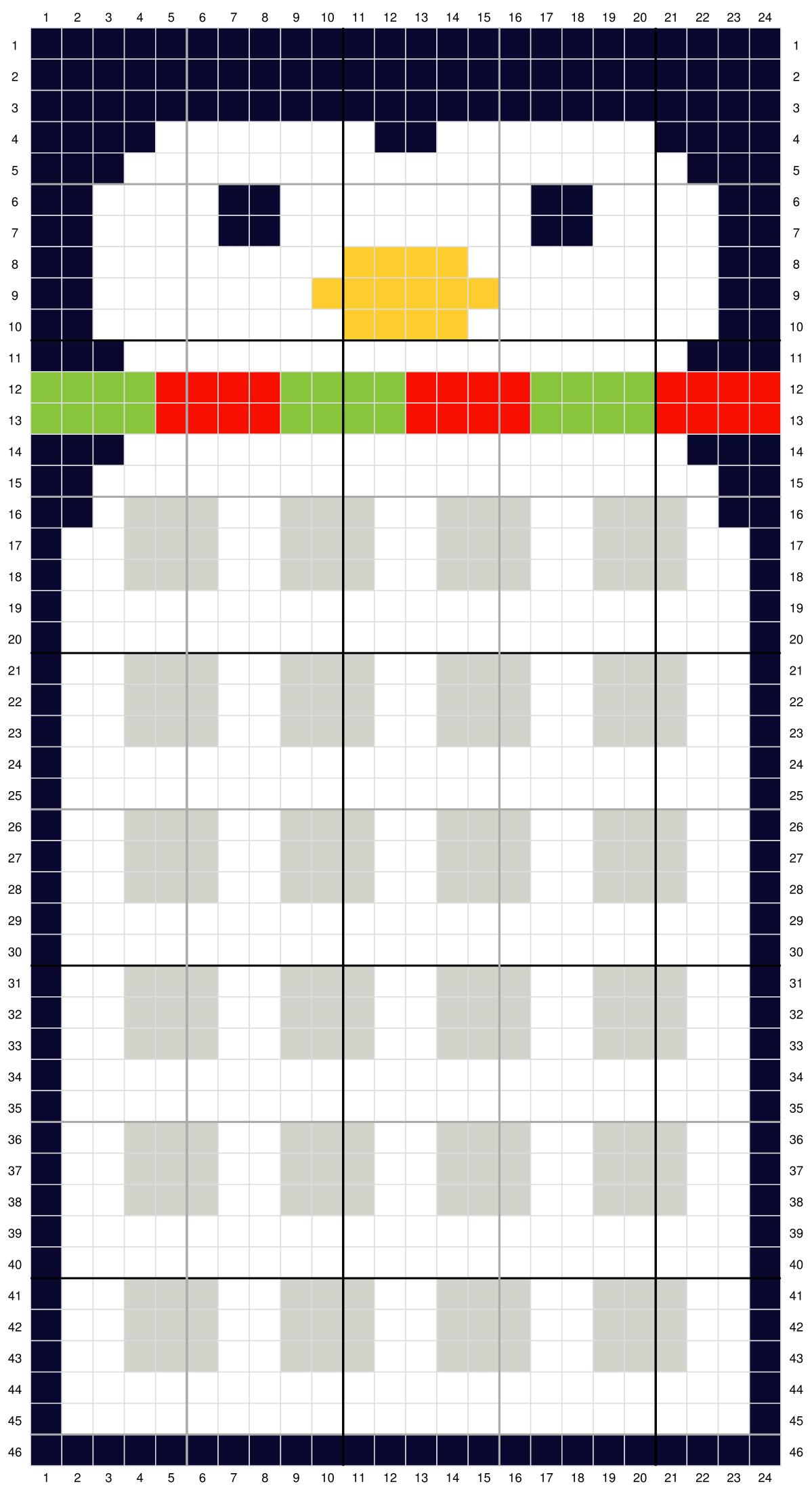 Pockets (make 24)
Pockets are simply 3×3 squares of C2C but nonetheless here's a little graph. Use the H/5mm hook and white yarn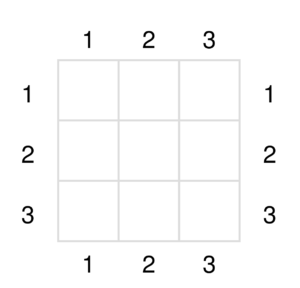 Add-on Scarf
The scarf is a long rectangle of C2C with 2 pompoms at the end. I know that color changing can be a pain, I chose to do a stripy scarf but you could do it only in red or green or any other color if you want. Also, you could do little tassels or fringes at the end of the scarf instead of pompoms, I just love pompoms.

String
I simply made two 24 inches chain with my 3.5 mm hook, one in green and the other one in red.
I twisted them together and attached them at each ends of the dowel. You could use a pretty ribbon instead if you want.
Holly add-on
I wanted to hide the knot of the string so I added these little holly applique. You can find the pattern for these right here on my blog!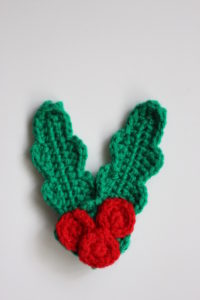 Assembly
Stick the numbers on the pockets, I used green for uneven numbers and red for even numbers.
Sew the pockets on the penguin according to the grey squares on the graph (that's the more tedious part of the project).
If you have not attach the pompoms at the end of the scarf you can do it now otherwise, fold the scarf in half and sew it from behind the calendar, like in this picture.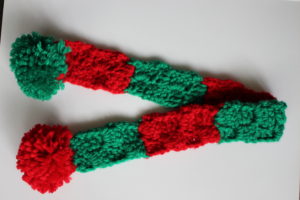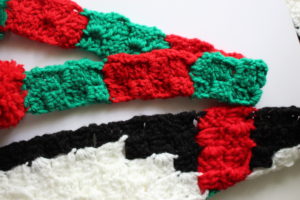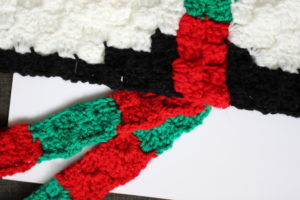 Fold the top of the head pf the penguin so that the edge of the first black row will be touching the top of the third row and sew this seam, you just form a "tube" in which you'll insert the dowel making sure that penguin is well center on it.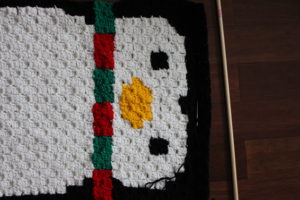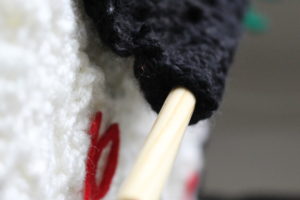 Attach the string at each ends of the dowel.
Use the holly applique to hide the knots of the string by either attaching it or sewing it on top of the knot.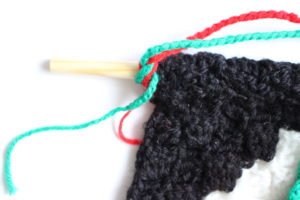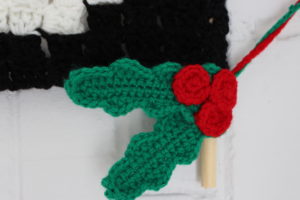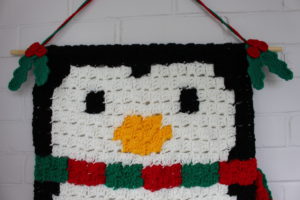 And there you go, you now have a beautiful and cheerful penguin advent calendar that will make the wait to Christmas hopefully a little more joyful.
I hope you like this project. We are already excited for Christmas and using this calendar with our daughter. I want to know in the comment if you have any particular tradition for Christmas but also which Christmas/gift idea would you like me to tackle before the holidays: another basket, amigurumi, C2C decor? Oh and of course I want to know if you love C2C. Wow that's a lot of question. Anyway as always if you make this project or any other of my patterns please take a picture and share it on Facebook and/or Instagram with the #cozylittlemess. You can also tag me and of course follow me on Facebook (Cozy Little Mess) or on Instagram (@cozylittlemess).
Thank you for visiting my blog, I hope you'll have a wonderful day.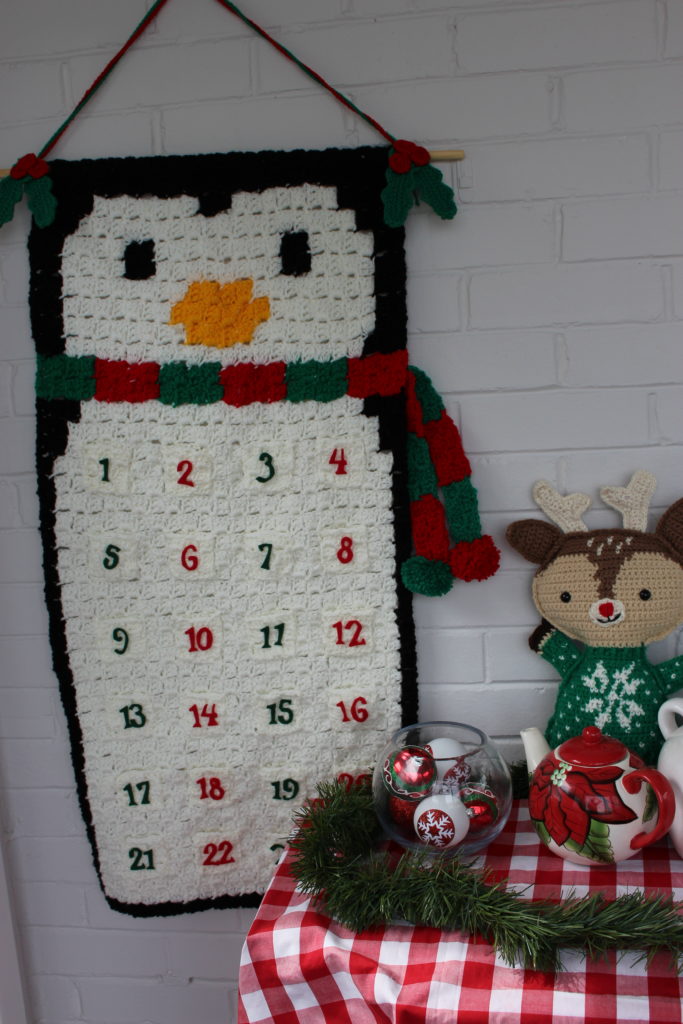 This pattern is an original pattern by Valérie Prieur-Côté of Cozy Little Mess (July 2018). Please do not claim this pattern as your own. If you wish to share this pattern, you may link to this pattern but please do not reprint it on your site. You may keep a copy for your own personal use but please DO NOT sell the pattern or distribute it.  
You may sell products made from this pattern but please clearly credit the design to me, Valérie of Cozy Little Mess, and provide a link to my blog www.cozylittlemess.com.  Permission is NOT granted for mass production or factory manufacturing of any kind.  Thank you for being respectful and for your understanding!
I sometimes include affiliate links in my supply lists. Purchasing from these merchants earns me a small commission with no extra cost to you, and goes towards supporting Cozy Little Mess.
Please follow and like us: