I love animals, anything with an animal on it will make me happy. One of my many favourites animals are sloth, they are simply adorable. I have an amigurumi sloth pattern coming soon to the blog, but I wanted to make another sloth project because one is obviously not enough so I decided to make a cute little keychain. Keychains sells well in craft fair usually, they are  perfect for stocking stuffer, goodie bags and «just because» gifts since they are super quick to make and perfect for all ages. For you as a crocheter it's also a nice little break and probably good for your crojo since you can make it in one go and that is always helping. Enough talking it's sloth time !
***You can purchase an INEXPENSIVE AD-FREE PDF of this pattern on Ravelry or Etsy HERE 
Materials
Worsted weight yarn in taupe, cream and toffee (or cream and 2 different shade of brown)
3,25mm or 3,5mm crochet hook
Fiber fil
Black yarn or thread for the eyes and nose details
tapestry needle
Keychain
6mm safety eyes
Abbreviations:
US terms
ch : chain
sl st : Slip Stitch
Sc : Single Crochet
Inc : Increase (2 stitches in the same space)
Inv Dec  : Decrease (crochet 2 stitches together using the front loop only)
( )- the number of stitches at the end of the round
** – Repeat stitches between **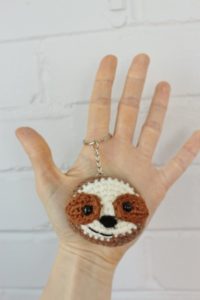 Pattern
Eyes patches (in toffee or your darkest shade of brown)
Round 1: ch6, 4sc, 3 sc in last stitches going to the other side of the chain, 3sc, 2 sc in last stitch, sl st to first sc. (12)
R2: Ch1, sc around. (12)
Tie off leaving long tail to sew
Head
Starting in cream
Round 1: 6sc into a magic ring (6)
R2: inc around (12)
R3: sc, inc x3, 3sc, inc x3, 2sc (18)
R4: sc, *inc, sc* x3, 3sc, *inc, sc* x3, 2sc (24)
R5: sc, *inc, 2sc* x3, 3sc, *inc, 2sc* x3, 2sc (30)
Change color to taupe or your lightest shade of brown
TIP: To make the color change more subtle I use this technique. At the last stitch of R5 insert hook, yarn over, pull through, yarn over with new color pull through both loops on the hook. R5 is now done. Your first stitch of R6 will be a sl st made with your new color and the rest of the pattern will be made with this color.
R6: sl st (according to the tip), *inc, 3sc* x3, 3sc, *inc, 3sc* x3, 2c (36)
R7-9: sc around (36)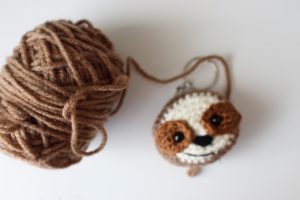 This is where I will stop and take care of the face of the sloth. The top of the head should be the opposite side of where you are to have the color change at the bottom of the face instead of the top.  Place the eyes patches in the middle of the face (cream part) and add the safety eyes through both the eye patch and the face. Using black thread or yarn and your tapestry needle make the nose and smile of your sloth. You can also add your keychain already through the top of the head of the sloth.  The montage at the end will illustrate these explications.
R10: sc, *inv dec, 3sc* x3, 3sc, *inv dec, 3sc* x3, 2sc (30)
R11: sc, *inv dec, 2sc* x3, 3sc, *inv dec, 2sc* x3, 2sc (24)
R12: sc, *inv dec, sc* x3, 3sc, *inv dec, sc* x3, 2sc (18)
R13: sc, inv dec x3, 3sc, inv dec x3, 2sc (12)
Stuff with fiber fill.
R14: inv dec x6 (6)
Tie off leaving long tail. Using the tail and your tapestry needle go through each stitches and pull to sew shut. And that is it your cute little sloth keychain is done and ready to go!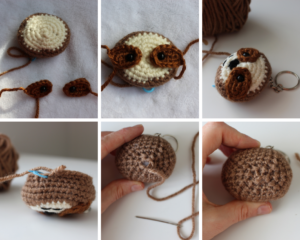 As always, if you create something from my pattern make sure to use the #cozylittlemess and tag me at @cozylittlemess so I can see what you've made !!
This pattern is an original pattern by Valérie Prieur-Côté of Cozy Little Mess (January 2019). Please do not claim this pattern as your own. If you wish to share this pattern, you may link to this pattern but please do not reprint it on your site. You may keep a copy for your own personal use but please DO NOT sell the pattern or distribute it.  
You may sell products made from this pattern but please clearly credit the design to me, Valérie Prieur-Côté from Cozy Little Mess, and provide a link to my blog www.cozylittlemess.com.  Permission is NOT granted for mass production or factory manufacturing of any kind.  Thank you for being respectful and for your understanding!
Please follow and like us: