If you are following me on Instagram you might have seen my Oliver the Koala amigurumi , the pattern for the cutie will be on the blog on February 18th , but until then to make the wait easier I'm sharing with you today a mini version of Oliver in this Koala Keychain.
Why the sudden urge to make koalas ? Well for two reasons. First of all, because my daughter loves koalas , usually that's enough for me to try to create something. Second of all, because for 2019 I've set a goal to my self to use my yarn stash as much as I can. So you may see some projects inspired by a yarn that I wanted to use. It's kind of nice actually to start a project from the material instead of going to buying some. So yea I had some Bernat Tiny Blanket  in gray (I still have a lot in many colors) and it was so soft that I thought amigurumi right away and then with my daughter new found love for koalas it wasn't long before I was sketching out little koalas in my notebook.
So here it is my little Koala Keychain , and make sure to come back here February 18th for my Oliver the Koala pattern or you could also follow me on instagram that would be great too.
***You can purchase an INEXPENSIVE AD-FREE PDF of this pattern on Ravelry or Etsy HERE  
You can also click on this graphic to save it on Pinterest for later.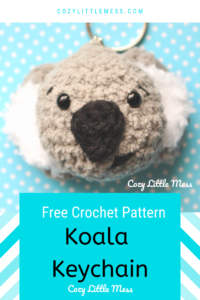 Materials
Worsted weight yarn in black, gray and white ( for the gray I used Bernat Tiny Blanket to have a really soft little koala and Bernat Pipsqueak in white for the ears)
3,25mm or 3,5mm crochet hook
Fiber fil
Black yarn or thread for the eyebrows and mouth
tapestry needle
Keychain
3mm safety eyes
Abbreviations:
US terms
ch : chain
sl st : Slip Stitch
Sc : Single Crochet
Dc : Double crochet
Tc : Triple crochet
Inc : Increase (2 stitches in the same space)
Inv Dec  : Decrease (crochet 2 stitches together using the front loop only)
( )- the number of stitches at the end of the round
** – Repeat stitches between **
Pattern
Nose (in black)
Ch 3
Row 1: sc in second chain from the hook, sc . (2)
R2: Do not chain, turn, sc . (1)
R3: Ch1 and sc all around the edge. Sl st to first sc (6)
Tie off leaving long tail to sew
Head (using gray)
Round 1: 6sc into a magic ring (6)
R2: inc around (12)
R3: sc, inc x3, 3sc, inc x3, 2sc (18)
R4: sc, *inc, sc* x3, 3sc, *inc, sc* x3, 2sc (24)
R5-8: sc around (24)
R9: sc, *inv dec, sc* x3, 3sc, *inv dec, sc* x3, 2sc (18)
We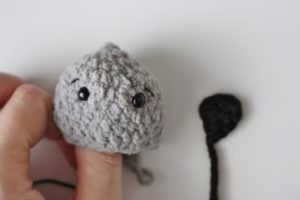 will now work on the koala face. Insert the safety eyes at row 5 about 5-6 stitches apart. With your tapestry needle and black thread make two little lines for the eyebrows. Place the nose centered between the two eyes one row under them and sew it on. I used part of the tail to make the little smile of my koala but you could use again your tapestry needle and black thread. You can also secure your keychain now.
R10: sc, inv dec x3, 3sc, inv dec x3, 2sc (12)
Stuff with fiber fill.
R11: inv dec x6 (6)
Tie off leaving long tail. Using the tail and your tapestry needle go through each stitches and pull to sew shut.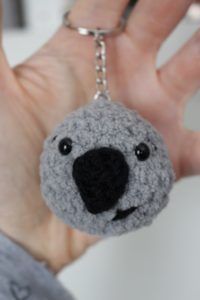 Ears (make 2)
White fuzzy part
Ch6
Round 1 : sc in second chain from the hook, dc, tc, dc, sc (5)
Tie off and leave long tail to sew
Gray part
Round 1 : 6sc into magic ring (6)
R2 : inc, round (12)
R3 : *sc, inc* 6 times (18)
R4 : *2sc, inc* 6 times (24)
R5 : *sc, tc, sc * 8 times (24)
Pull up a loop don't tie off yet.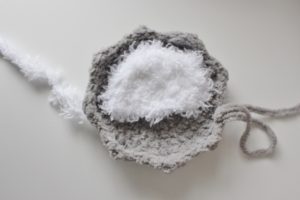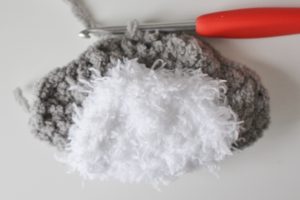 Take your fuzzy white part and sew it on half of the gray part as shown in the picture. Then fold the gray part in half, aligning the little "petals" in front of each other. Put your hook into the loop you pulled and sc together your 2 sides of the ears, keeping the fuzzy part in front of you. It will look like a little pot sticker.
Tie off leaving long tail to sew.
Sew the ears on each side of the head, you'll need to curve them a little but that's what we want.
And that's it your little koala keychain is done ! The Koala keychain was created as a mini version of my Oliver the koala pattern.
As always, if you create something from my pattern make sure to use the #cozylittlemess and tag me at @cozylittlemess so I can see what you've made !!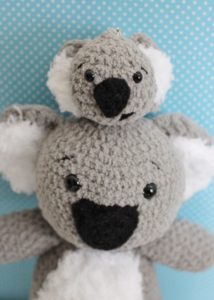 This pattern is an original pattern by Valérie Prieur-Côté of Cozy Little Mess (February 2019). Please do not claim this pattern as your own. If you wish to share this pattern, you may link to this pattern but please do not reprint it on your site. You may keep a copy for your own personal use but please DO NOT sell the pattern or distribute it.  
You may sell products made from this pattern but please clearly credit the design to me, Valérie Prieur-Côté from Cozy Little Mess, and provide a link to my blog www.cozylittlemess.com.  Permission is NOT granted for mass production or factory manufacturing of any kind.  Thank you for being respectful and for your understanding!
Please follow and like us: